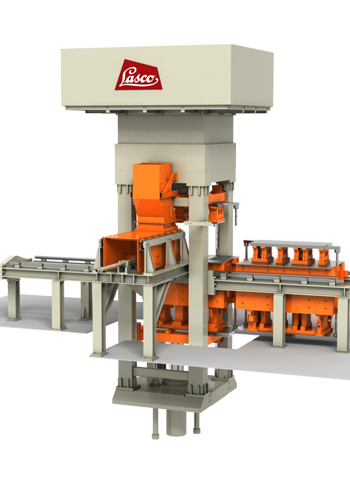 The patented mold system of the PSP allows the production of variable block lengths (between 100 - 750 mm) and wall thicknesses, achieved by variations in filling height. The positioning of the punches is computer-controlled via the interface signal of the configuration software.
The unique sliding multiform tooling is equipped with molds for producing standard wall thicknesses, with only the center mold filled in one working cycle. To produce vario-blocks and elements of other wall thicknesses, the complete mold (upper and lower punch, press table with mold boxes) is changed hydraulically within seconds.
An industrial robot with vacuum gripper plate removes the differently sized green blocks from the conveyor belt and stacks them on the curing wagon. Individual gripper vacuum chambers are controlled automatically depending on the dimensions of the green block.
Performance overview / process technology:
Max. block height: 1,000 mm
Max. block length filler block: 100 - 750 mm
Max. block length plan element: 998 mm
Capacities:
Press force 6,300 – 10,000 kN
Brochure:
Please refer to our brochure for further details of features and performance parameters.