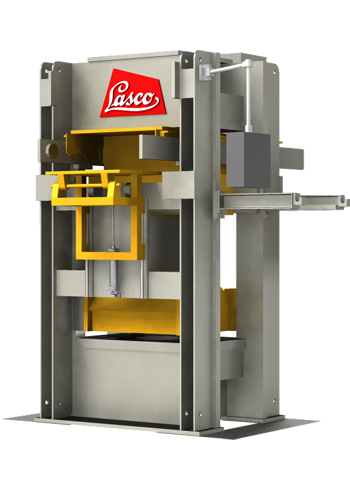 The press design guarantees ease of access. The hydraulic drive is generally mounted on floor level. Filling device, mold box and block removal device are all integrated in a hydraulically driven compact component. The block removal is facilitated by a lifting device of high sensitivity.
Optimum cycle time is achieved by simultaneous execution of various operations, such as filling the mold box and removal of the green blocks. Depending on the size of the press, up to 34 blocks (KSE 1250) can be pressed in one stroke. The programmable logic controller ensures compliance with all quality parameters. The conversion to modified block formats or raw material mixtures is unproblematic. The quality of the sand-lime blocks produced meets the DIN 106 standard for the properties of sand-lime blocks.
Performance overview / process technology:
Small and medium block formats up to 250 mm block height
Capacities:
Press force 4,000 – 10,000 kN
Brochure:
Please refer to our brochure for further details of features and performance parameters.